This is an excerpt from the DKI July letter:
DKI has written and spoken extensively about Japan's financial problems. In a piece titled "Japanese Debt – We're Taking a Victory Lap," we provided links to our predictions that the Bank of Japan would eventually have to capitulate to market demands for higher rates.

10 Year Japanese government bond yield. Graph from CNBC.
Japan's problem is straightforward. Its debt is more than 250% of GDP. The reason they've been able to do this is because Japan has had the yield on its debt of around zero for years and at times, have sold bonds with negative yields. One way they've done this is by buying their own debt. There were entire weeks last summer where all trading in Japanese bonds were done by the Bank of Japan. To say this is a manipulated market is an understatement.
Last year, when the US Federal Reserve raised interest rates, people sold Japanese yen and bought dollars to take advantage of the higher yield in the dollar. That selling pressure dropped the yen from 115 to the dollar down to 150. That's a 30% devaluation in under a year which is an unheard of move in foreign currency markets, particularly when we're talking about the world's 3rd largest economy.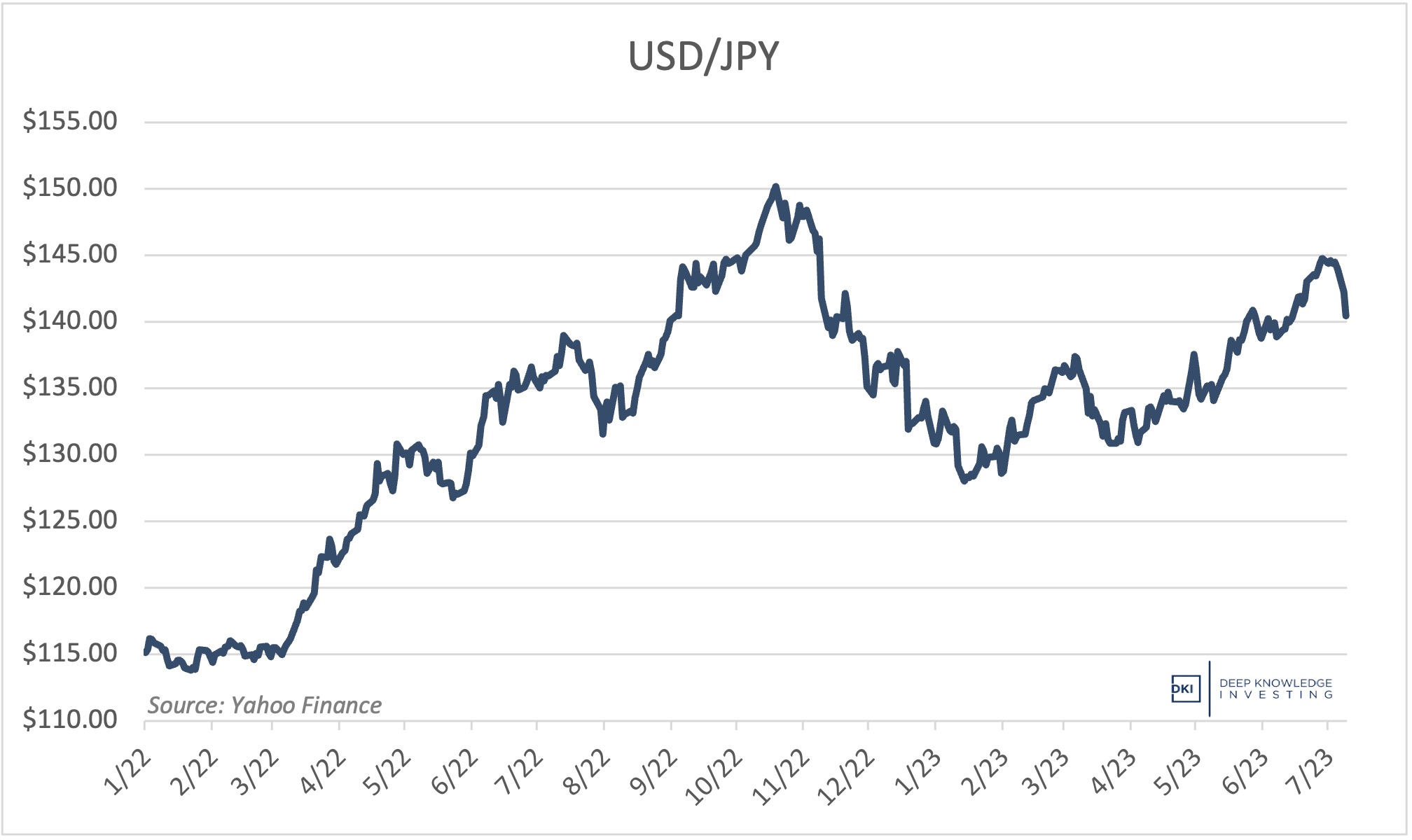 This currency decline is a problem when you need to import goods.
Japan is an island nation with few natural resources and very little energy. As the dollar strengthened against other currencies, the price of oil rose. The cost of oil in yen went up even more. The only thing the Bank of Japan can do to keep the yen from falling is to raise interest rates. The problem is that with debt levels so high, any significantly positive interest rate will cause a massive budget deficit. The only way the Japanese can pay the higher levels of interest is to print more yen. That leads to inflation and either a weaker yen, or the Bank of Japan will need to raise interest rates even more. Play that out for a few rounds and you can see why we call it a debt death spiral. Any fix to the problem causes more of the same problem.
Given that the Federal Reserve has indicated it plans to raise rates twice more this year and that it is not planning on lowering any time soon, that's going to put more pressure on the yen and exacerbate financial problems in Japan. We don't expect Powell to care about this as he's focused on getting inflation in the US down. There's an old unfortunate saying that the dollar is our currency, but it's your problem. This is another reason more countries want less exposure to the dollar.
Information contained in this report is believed by Deep Knowledge Investing ("DKI") to be accurate and/or derived from sources which it believes to be reliable; however, such information is presented without warranty of any kind, whether express or implied and DKI makes no representation as to the completeness, timeliness or accuracy of the information contained therein or with regard to the results to be obtained from its use.  The provision of the information contained in the Services shall not be deemed to obligate DKI to provide updated or similar information in the future except to the extent it may be required to do so. 
The information we provide is publicly available; our reports are neither an offer nor a solicitation to buy or sell securities. All expressions of opinion are precisely that and are subject to change. DKI, affiliates of DKI or its principal or others associated with DKI may have, take or sell positions in securities of companies about which we write. 
Our opinions are not advice that investment in a company's securities is suitable for any particular investor. Each investor should consult with and rely on his or its own investigation, due diligence and the recommendations of investment professionals whom the investor has engaged for that purpose. 
In no event shall DKI be liable for any costs, liabilities, losses, expenses (including, but not limited to, attorneys' fees), damages of any kind, including direct, indirect, punitive, incidental, special or consequential damages, or for any trading losses arising from or attributable to the use of this report.