The Corporate Earnings and Clickbait Issue
In honor of the entire mainstream media squawking about interest rates at 22-year highs (while being in-line with long-term trends), we'll be introducing all of this week's "Things" with clickbait headlines. This week, DKI readers and Twitter (or "X") followers will get to read about:
Fed Raises to Highest in 22 Years – Is Jerome Powell Trying to Destroy the Economy?
2Q GDP Was Up 2.4% – Does That Mean Rates Are Going to 6%?
PMI in Contraction – What You Can Do to Avoid Recession.
$ENVA Earnings – Loan Growth Despite Imploding Credit Conditions.
$HCA Earnings – Hospitals Are Making More Money. Can You Afford to Get Sick?
$COUR Earnings – Revenue Growth Almost 60% Greater than Guidance!
Is it time to panic yet? DKI subscribers will know on Monday morning. It's also worth pointing out that 100% of DKI stock picks had excellent quarters beating (most) earnings estimates and raising guidance where provided. Special deal – if you subscribe, not only will you have access to our best stock ideas and research, we'll even do the worrying for you. No need to even panic a little. Check out our subscription page and join our happy and calm group of investors.
Astute readers will notice this week's version of the "5 Things" goes to 6. Either we're delivering 20% more value, or we can't count. You decide.
1)  Fed Raises 25bp (.25%):
The Federal Reserve raised the fed funds rate another 25bp breaking the 1 month "pause". During his press conference, Jerome Powell, gave very little information insisting that no decisions have been made regarding the September meeting. The committee will have two months of inflation, employment, and producer data to determine whether they will raise another 25bp, or hold at current rates.

Rates are at a 22-year high and are completely normal. Graph from St. Louis Fed.
DKI Takeaway: The media got a little crazy with every headline advertising that rates are at their highest in 22 years! However, take a look at the chart above. DKI's conclusion is that current rates are completely normal. It's the last 22 years of ultra-low (often zero) rates that represents the anomaly. Need help figuring out what to do in this environment or how to hedge? DKI has clear help for subscribers on what to do now.
2)  2Q GDP Was Better than Expected:
2Q GDP of 2.4% crushed the 1.5% estimate. At DKI, we always adjust GDP for a variety of factors that obscure an accurate reading. In this case, we think the inflation adjustment was low. That means real GDP growth was probably closer to 1%. Not awful, but not as good as implied.
Not a bad quarter and better than expected. Chart from the WSJ.
DKI Takeaway:  The economy and the employment market are holding up better than expected and giving Jerome Powell more room to raise. Powell is worried about core and services inflation that won't come down, and a growing economy means recession fears are fading. What's this mean? You all know the line by now: "Higher for longer".
3)  There Was Weak PMI Data This Week:
DKI Board Member, Mish Shedlock, points out that the PMI Composite Output Index is at a 5-month low. US Services Business Activity Index is at a 5-month low. US Manufacturing PMI is at 49 indicating contraction.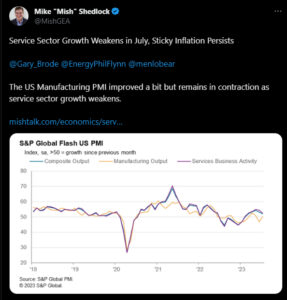 This is all negative economic news. Tweet from Mish.
DKI Takeaway:  Recent economic news has been more positive, especially the GDP and employment numbers. Mish points out that sticky services inflation and manufacturing contraction are indications of potential stagflation. DKI adds that an inverted yield curve, persistently high housing prices, and another wave of food inflation could combine to make Mish correct in this prediction.
4)  Enova Originations Above $1B Questions Credit Narrative:
Enova International ($ENVA) grew revenue 22% which beat analyst estimates. EPS of $1.72 beat both analyst estimates and prior guidance. Loan originations were again above $1B with total receivables and loans up 20%.

Massive earnings during Covid. Fast growth post-Covid.
DKI Takeaway:  We keep reading negative reports on consumers taking on more debt, and banks pulling back lending. This combination will lead to defaults. However, Enova serves the non-prime market. They grew the loan book and consumer delinquencies and charge-offs were below where they were last quarter and last year. It seems the lower-FICO score crowd is handling the current economic environment better than some.
5)  HCA Earnings – The Big Hospitals Are Becoming More Profitable:
Revenue was up 7% and beat analyst estimates. EPS also beat estimates, and the company raised guidance for revenue, EBITDA, and EPS. The new EPS guidance is also above analyst estimates.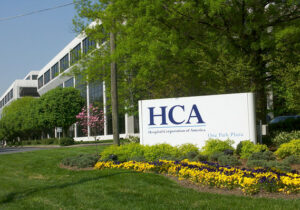 If you're worried about hospitals making more money, we have the solution.
DKI Takeaway:  It was a great quarter by $HCA and we're happy to see them beat expectations and raise guidance. We'll be looking for better operating expense control in the second half. For those of you who are worried about rising medical costs and think it's concerning that the big hospitals are increasing revenue and profitability, the best option is to own the increasingly profitable hospitals yourself. We'll keep DKI subscribers updated on when we sell the stock or if we add to the current position.
6)  Coursera Beats and Raises – Crushes Earlier Guidance:
Coursera ($COUR) announced 2Q revenue up 23% which beat guidance and analyst estimates. In addition to buying back 4.5MM shares, the company also raised 2023 revenue guidance for the second quarter in a row. Consumer revenue was up 25% with another 6MM registered learners. The Enterprise division grew 24%. Even the small Degrees division posted solid growth in students and revenue.

Great results / bad guidance
DKI Takeaway:  Coursera stock got crushed earlier this year due to weak guidance. When I spoke with the company and asked them what had changed so drastically in the business, they responded by saying "Nothing changed. We're just being conservative." Revenue growth for the last 5 quarters has been 22.2%, 24.1%, 23.7%, 22.6%, and 23.2%. That's consistently high leading us to conclude that management is great at being conservative and terrible at giving guidance. Actual performance has been well above expectations all year.
Information contained in this report is believed by Deep Knowledge Investing ("DKI") to be accurate and/or derived from sources which it believes to be reliable; however, such information is presented without warranty of any kind, whether express or implied and DKI makes no representation as to the completeness, timeliness or accuracy of the information contained therein or with regard to the results to be obtained from its use.  The provision of the information contained in the Services shall not be deemed to obligate DKI to provide updated or similar information in the future except to the extent it may be required to do so. 
The information we provide is publicly available; our reports are neither an offer nor a solicitation to buy or sell securities. All expressions of opinion are precisely that and are subject to change. DKI, affiliates of DKI or its principal or others associated with DKI may have, take or sell positions in securities of companies about which we write. 
Our opinions are not advice that investment in a company's securities is suitable for any particular investor. Each investor should consult with and rely on his or its own investigation, due diligence and the recommendations of investment professionals whom the investor has engaged for that purpose. 
In no event shall DKI be liable for any costs, liabilities, losses, expenses (including, but not limited to, attorneys' fees), damages of any kind, including direct, indirect, punitive, incidental, special or consequential damages, or for any trading losses arising from or attributable to the use of this report.