Overview:
For the first time in almost 20 years, you can buy a euro for one dollar.  As little as a year ago, a Euro cost about $1.19.  In foreign exchange markets, that's a huge move in a year.  Here's the chart: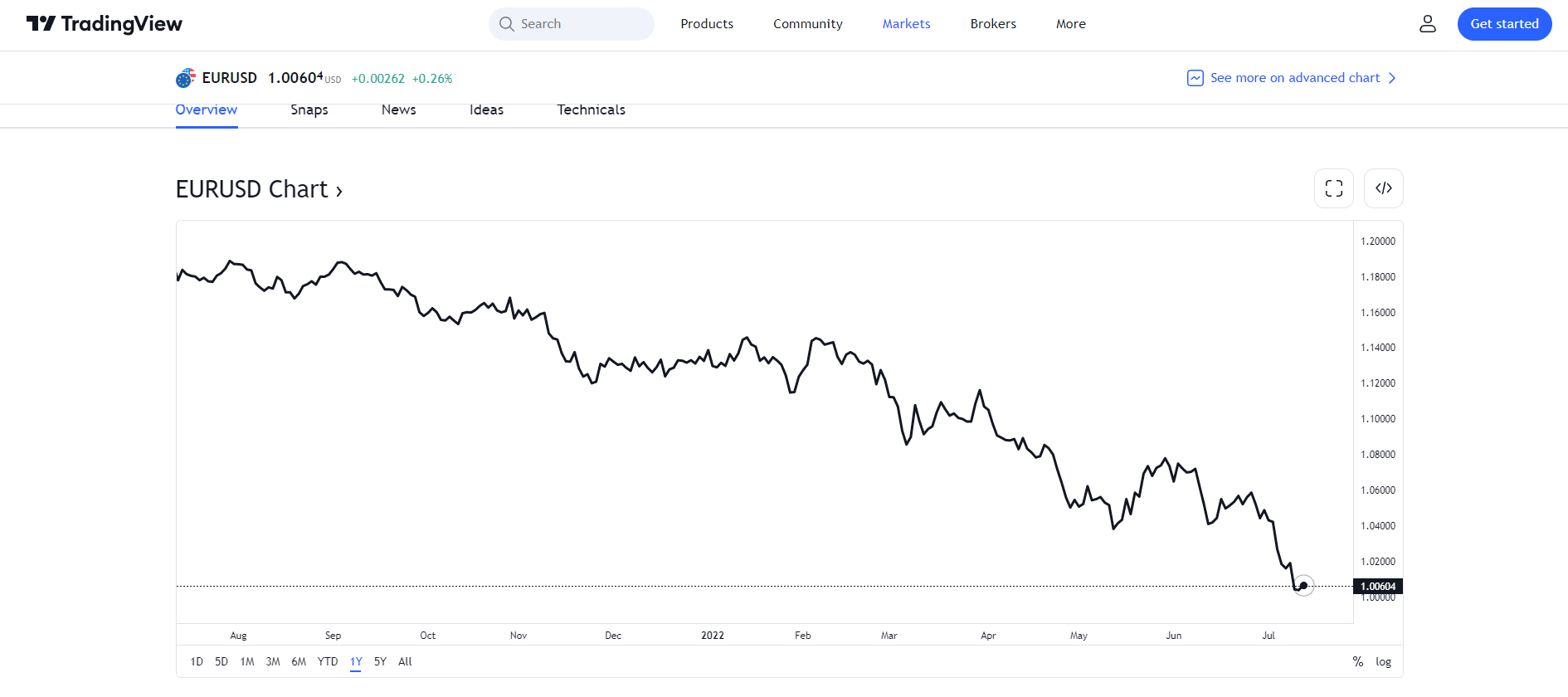 We first wrote about the stronger dollar vs other currencies two months ago, and then did a quick update afterwards on the possibility that the dollar would reach parity with the euro.  So, what's it mean to you?
If You're an Importer:
If you import goods from Europe, your life just got a bit easier and cheaper.  Your dollar will buy you 19% more in euros than it would have a year ago.  However, our primary trading partners are China, Mexico, and Canada.  Germany is the only EU country among the top 10 import trade partners for the US with about $135 billion in imports last year.  Basically, life just got a bit easier if you want to buy a Porsche or BMW (assuming you can find supply in this tight market).  We could expect to see the US import more foreign goods which would help foreign manufacturers at the expense of US producers.
If You're an Exporter:
If you export goods to Europe, your life just got a bit harder and more expensive.  We export about $65 billion a year to Germany and the price of American blue jeans and Brooks Brothers' suits is now comparatively more expensive in euros.  For exporters who have contracts specifying they'll be paid in euros, the price they'll receive will be worth less in dollars.  So, either our exporters will sell less at higher prices, or receive lower prices depending on the details of their agreements.  As above, we should expect a continuation of high trade imbalances where the US imports more than we export.
If You're a Tourist:
If you've planned a summer trip to Europe, things are great.  The price of your pizza in Naples and your croissant in Paris has come down by 19% in the last year.  You'll buy train tickets and pay for tour guides in dollars that will buy more euros than they would have a year ago.  Pretty nice.
If You're a Foreign Exchange Trader:
This is the key comparison we've been making for months.  We keep reading articles on the "strength" of the US dollar.  That's true from the point of view of buying other currencies.  In general, times of higher volatility like we've seen in the past year create additional opportunities for good traders to earn higher profits.
If You're a US Resident Who Has Bills to Pay:
Then none of this matters.  We'll have a post out later today on the new inflation print exceeding 9%.  The short version is gas still costs $4.50 to over $5.00 a gallon depending on location.  Food prices continue to rise.  And housing prices are still up about 20% year over year.
Why This is Happening:
During Covid, the US printed trillions of dollars and prevented people from working.  That means a lot more money chasing fewer goods which led to inflation.  That, combined with shortages of food, fertilizer (for food production), and fuel means raw material costs went up too.  That's the main reason why your paycheck isn't going as far as it did a year or two ago.
While the US Federal Reserve was way behind in raising interest rates in order to head off inflation (a topic we've addressed at length), they've started to move aggressively, and that has raised the value of the dollar against other currencies.  In addition, the Russian war in Ukraine combined with China talking openly about invading Taiwan has led to a greater degree of global instability and an increased desire for safety.  That's led to other countries and people wanting to hold dollars which are still regarded as the global reserve currency (a fancy way of saying dollars are a safer way to store money than the local currency in some other places).
Our concern is that excessive currency printing here in the US combined with well-meaning but poorly-designed anti-Russian sanctions means that the dollar may lose its status as the global reserve currency.  For those of you who'd like to understand that topic better, this video will help.
Conclusion:
We continue to maintain that we have a strong dollar vs other fiat currencies at the same time that the purchasing power of that dollar here at home is declining at a rapid pace.  From our piece two months ago:  "You might be able to use a dollar to buy more euros, but that same dollar will buy you less gas, food, and housing. Is the dollar strengthening or weakening? That depends on your point of view, but we'd rather have food and fuel than euros."
Information contained in this report is believed by Deep Knowledge Investing ("DKI") to be accurate and/or derived from sources which it believes to be reliable; however, such information is presented without warranty of any kind, whether express or implied and DKI makes no representation as to the completeness, timeliness or accuracy of the information contained therein or with regard to the results to be obtained from its use.  The provision of the information contained in the Services shall not be deemed to obligate DKI to provide updated or similar information in the future except to the extent it may be required to do so. 
The information we provide is publicly available; our reports are neither an offer nor a solicitation to buy or sell securities. All expressions of opinion are precisely that and are subject to change. DKI , affiliates of DKI or its principal or others associated with DKI may have, take or sell positions in securities of companies about which we write. 
Our opinions are not advice that investment in a company's securities is suitable for any particular investor. Each investor should consult with and rely on his or its own investigation, due diligence and the recommendations of investment professionals whom the investor has engaged for that purpose. 
In no event shall DKI be liable for any costs, liabilities, losses, expenses (including, but not limited to, attorneys' fees), damages of any kind, including direct, indirect, punitive, incidental, special or consequential damages, or for any trading losses arising from or attributable to the use of this report.