This is an excerpt from the DKI July letter:
When DKI recommended buying Bitcoin a couple of years ago at half the current price in dollars, part of our thesis was the coming institutional acceptance of the asset. We hypothesized that even small percentage allocations from firms managing trillions of dollars would overwhelm Bitcoin trading where the current issuance is about 900 coins a day. With fixed supply and a deflationary issuance schedule, the only way the market can adjust to greater demand is higher prices.
Within the past month, BlackRock, Bitwise, Invesco, Deutsche Bank, WisdomTree, and Fidelity all filed for spot Bitcoin exchange traded funds (ETFs). The SEC is asking questions, but doing so in a way that's providing these companies a road map to address regulatory concerns. While many of these firms had made negative comments on Bitcoin in prior years, the lure of more fees changed their minds. Many investors want to hold Bitcoin in a brokerage account and don't want to have to buy it off of an exchange and figure out how to self-custody. An ETF is perfect for their needs.
It is our belief that the SEC will approve some or all of these applications which will have interesting implications for the Grayscale Bitcoin Trust ($GBTC). This is a closed-end fund that enables investors to buy an asset linked to Bitcoin's spot price in their brokerage account. The issue with $GBTC is it is a closed-end fund. This means that shares can't be destroyed and there is no way to match the number of Trust shares with current demand. As a result, GBTC has been trading at a large discount to net asset value (NAV). That means you can effectively buy Bitcoin at a discount right now.
The fund was trading at a discount of between 40% and 50% last month. When I saw the big institutions applying for their own Bitcoin ETF, I thought it was likely that Grayscale would win approval, and that this would enable the Trust to buy back shares and retire them. This would cause $GBTC to trade at NAV again.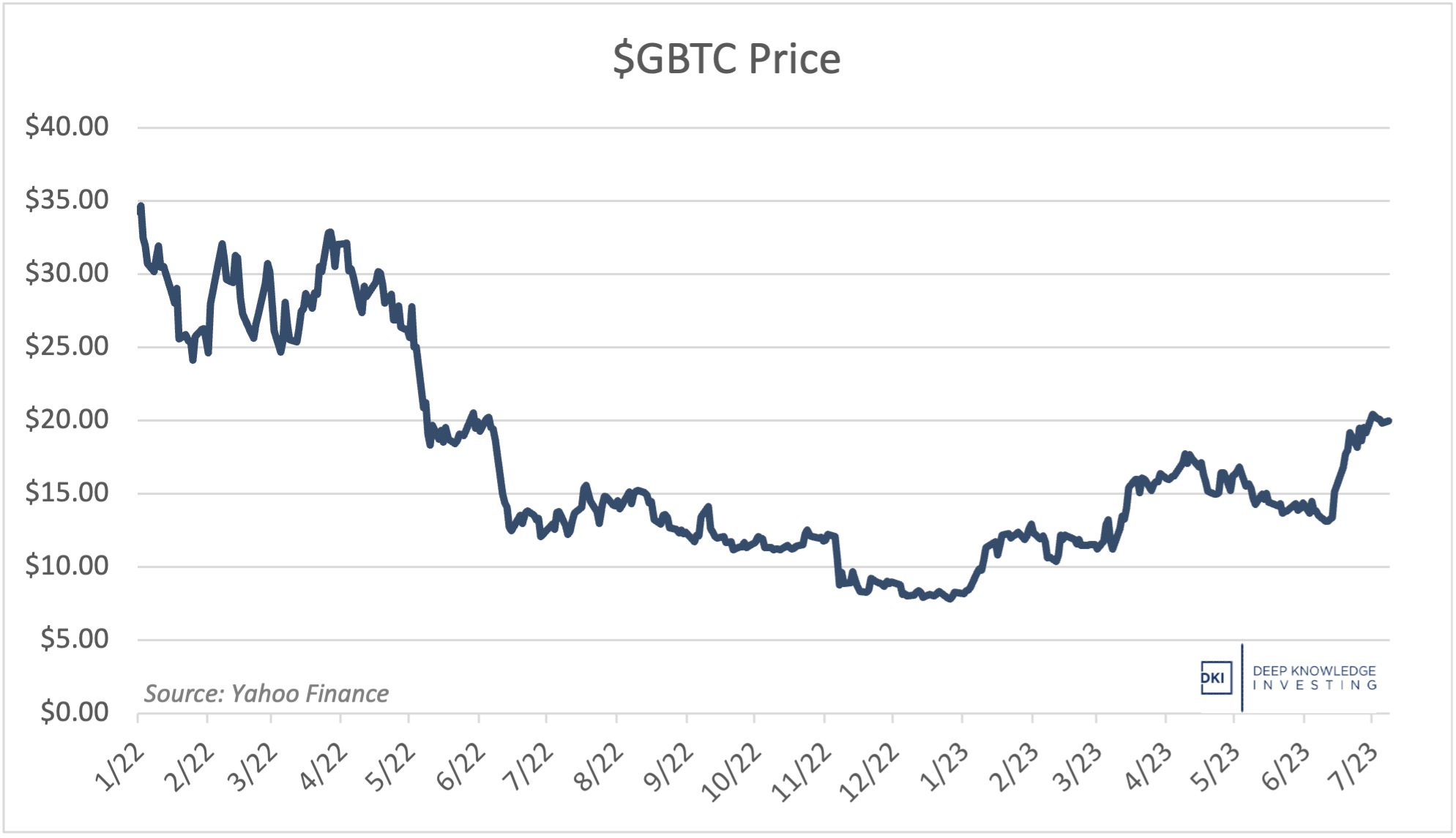 DKI was quick to respond to this and re-recommended GBTC in the low/mid teens. The discount to NAV has collapsed to just over 25%. As of this writing, each share of the trust is trading at $19.99. That's a return of just under 40% in a month for DKI subscribers. For those of you considering joining us as premium subscribers, I can't promise you that we find these opportunities every week, but you don't need a lot of them to make the cost of a subscription worthwhile.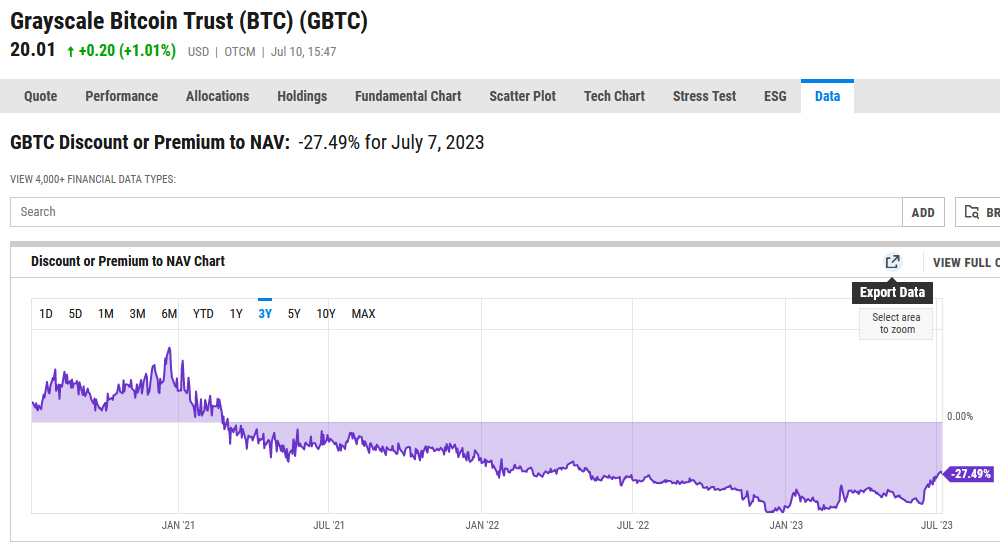 Still a big discount but it's been cut almost in half. Chart from YCharts.
Finally, for those of you who prefer to self-custody and take control of your own Bitcoin, you can use our step-by-step self-custody guide.
Information contained in this report is believed by Deep Knowledge Investing ("DKI") to be accurate and/or derived from sources which it believes to be reliable; however, such information is presented without warranty of any kind, whether express or implied and DKI makes no representation as to the completeness, timeliness or accuracy of the information contained therein or with regard to the results to be obtained from its use.  The provision of the information contained in the Services shall not be deemed to obligate DKI to provide updated or similar information in the future except to the extent it may be required to do so. 
The information we provide is publicly available; our reports are neither an offer nor a solicitation to buy or sell securities. All expressions of opinion are precisely that and are subject to change. DKI, affiliates of DKI or its principal or others associated with DKI may have, take or sell positions in securities of companies about which we write. 
Our opinions are not advice that investment in a company's securities is suitable for any particular investor. Each investor should consult with and rely on his or its own investigation, due diligence and the recommendations of investment professionals whom the investor has engaged for that purpose. 
In no event shall DKI be liable for any costs, liabilities, losses, expenses (including, but not limited to, attorneys' fees), damages of any kind, including direct, indirect, punitive, incidental, special or consequential damages, or for any trading losses arising from or attributable to the use of this report.