The R-star and Shoplifting Issue
Lots of interesting news this week where we address these important questions:
Jerome Powell is again more hawkish than the market expected or hoped. Rates to 6%?
More bank downgrades. One bank index shows no shareholder value creation in 25 years.
Nvidia ($NVDA) has a fantastic quarter and the stock fell. What do you do when the best possible news doesn't make you money?
What's R-star? What's the right level for this measure? We'll help you form an opinion on whether the experts are right or wrong.
Will retail companies like Dick's Sporting Goods ($DKS) change their issue advocacy when theft is causing them billions of dollars in market cap and putting their employees at risk?
Ready for the week? Let's dive in:
1)  Powell Speaks:
Fed Chairman, Jerome Powell, spoke at a conference in Jackson Hole, WY. He immediately said there's a "long way to go" to get inflation under control. He also noted that "two months of good data are only the beginning" and "there's still substantial ground to cover". For the doves, he said he believes the current (fed funds) rate is "restrictive".
Fed Chairman, Powell, telling us what's coming next.
DKI Takeaway:  We're not so sure that the current real rate of approximately 2% is so restrictive, and even Powell had to acknowledge the consumer continues to spend. Overall, we think the speech was more hawkish than many expected or hoped complete with a stated commitment not to raise the inflation target. All together now: "Higher for longer".
2)  S&P Downgrades More Banks:
We recently noted ratings agency downgrades on multiple small and mid-sized banks. This week, S&P added to the list by downgrading five banks and lowering the outlook on others. KeyCorp ($KEY) and Comerica ($CMA) were the most noteworthy of the group.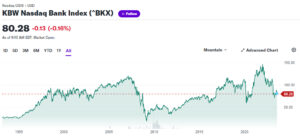 The KBW Bank Index is back at the level it was in early 1998. Graph from Yahoo Finance.
DKI Takeaway:  Higher interest rates have reduced the value of these banks' assets on the balance sheet while demands for higher interest on deposits by customers is putting pressure on the income statements. The banks are responding by offering higher rates in checking accounts and certificates of deposit. However, in every case I've seen, the interest rate on bank CDs is below that of the more liquid Treasury Bond/Bill which is one of the things leading to deposit flight. We're staying away from investing in the banks right now. For those of you who want to buy higher-yielding Treasuries, here's our guide to using TreasuryDirect.
3)  Nvidia Earnings Were Fantastic but No Upside for the Stock:
Nvidia ($NVDA) is the biggest early beneficiary of the excitement surrounding artificial intelligence. Last quarter, the chip maker gave quarterly guidance of $11 billion which was about 50% above analyst estimates. This quarter, the company crushed expectations for both revenue and earnings, and gave forward quarterly guidance of $16 billion which was 27% above expectations. This is incredible fundamental performance.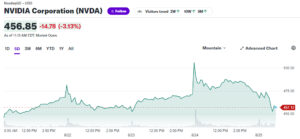 That price dip at the end accompanied a huge beat and raise. Chart from Yahoo Finance.
DKI Takeaway:  Despite a massive beating of expectations and substantially raising guidance, the stock traded down slightly the next day. When you get fantastic fundamental results and the stock declines on the day, the most likely interpretation is that the valuation of the stock has reached a level where good news no longer helps. If Michael Gayed (@leadlagreport on Twitter) is right in his negative view on the stock, this is what that would look like.
4)  Let's Talk About R-star:
R-star is an estimate of the "natural" rate of interest. It refers to the short-term real interest rate that is neither stimulative nor restrictive. (Real interest rates are interest less the inflation rate.) R-star is a theoretical concept so while it can be estimated, it can't be precisely measured. When you see charts of the measure, please realize it is an estimate.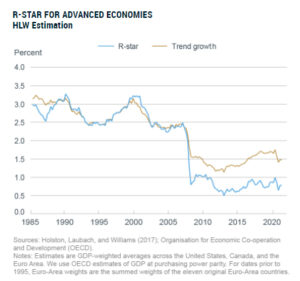 Graph from the NY Fed showing R-star estimates between .5% and 1.0%.
DKI Takeaway:  While there's not much point in debating a hypothetical unmeasurable metric, DKI is skeptical that the natural real rate of interest is only .5%. This is a rough example, but would you bother to buy a $1,000 12-month certificate of deposit and earn $5 more in purchasing power? If you wouldn't bother at that price, then you might be skeptical that R-star is .5% as well.
5)  Retail About to Face Some Tough Choices:
At this point, we've all seen the videos of flash mobs that flood into stores grabbing merchandise. The size of the mobs prevents store employees from detaining them. Their speed (typically in and out of a store in under a minute) prevents the police from arriving in time to help. And fear of injury or lawsuits prevents store security from physically intervening. This week, Dick's Sporting Goods ($DKS) blamed "elevated inventory shrink" (theft) for a massive earnings miss. Dick's has also supported protests which advocate for defunding the police.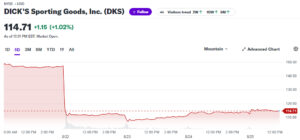 Curous to see what happens to Dick's political advocacy when theft costs the company $2B in market cap. Chart from Yahoo Finance.
DKI Takeaway:  Stores in cities all over the country are closing because they're afraid to confront shoplifters and can't take additional losses. Frightened employees are quitting. Companies like Dick's are responding to reduced profitability by firing employees. It will be interesting to see if these retail companies continue to pursue the same social agenda, or if theft, losses, and employee safety cause them to make a change to corporate donations and messaging. Special hat tip to ZeroHedge for its hilarious headline on the topic.
Information contained in this report is believed by Deep Knowledge Investing ("DKI") to be accurate and/or derived from sources which it believes to be reliable; however, such information is presented without warranty of any kind, whether express or implied and DKI makes no representation as to the completeness, timeliness or accuracy of the information contained therein or with regard to the results to be obtained from its use.  The provision of the information contained in the Services shall not be deemed to obligate DKI to provide updated or similar information in the future except to the extent it may be required to do so. 
The information we provide is publicly available; our reports are neither an offer nor a solicitation to buy or sell securities. All expressions of opinion are precisely that and are subject to change. DKI, affiliates of DKI or its principal or others associated with DKI may have, take or sell positions in securities of companies about which we write. 
Our opinions are not advice that investment in a company's securities is suitable for any particular investor. Each investor should consult with and rely on his or its own investigation, due diligence and the recommendations of investment professionals whom the investor has engaged for that purpose. 
In no event shall DKI be liable for any costs, liabilities, losses, expenses (including, but not limited to, attorneys' fees), damages of any kind, including direct, indirect, punitive, incidental, special or consequential damages, or for any trading losses arising from or attributable to the use of this report.