Overview:
On February 24, 2020, we published Net Short explaining that due to concerns about the coronavirus, we had gone short against the market. Over the next 3 weeks, we wrote 3 additional pieces (here, here and here) reiterating and amplifying our bearish position. During that period, the market fell 29%. Following that, the Federal Reserve lowered interest rates to almost 0%, fired $4 trillion of stimulus into the economy, and announced quantitative easing "infinity version". QE "Infinity Version" seems to be where the Fed keeps printing and distributing money until the market is happy. Congress has signed off on additional trillions of dollars of stimulus.
Deep Knowledge Investing has been focused on macro issues in recent months because company fundamentals have been driven almost exclusively by the coronavirus and government policy. We were early in recognizing the danger to the market, and were correct to recommend short positions through put options and shorting the SPY ETF.
At this point, we're seeing some specific stocks that are down 40% or more with businesses that we believe will recover when state-wide and country-wide lockdowns are lifted and life returns to something resembling pre-virus normal. While we believe it is impossible to call a bottom in any particular security, we are seeing opportunities for patient investors to make 2-4x returns over a 2-3 year timeframe. Las Vegas Sands (ticker: LVS) is one of those opportunities.
Business Overview:
Las Vegas Sands owns 5 casinos in Macao, 1 in Singapore, and 1 in Las Vegas. About 60% of EBITDA comes from Macao, 30% from Singapore, and 10% from Las Vegas. In 2019, LVS sold its Bethlehem casino for $1.3 billion. In general, the casino gaming business is a fantastic business that has been in existence for thousands of years. Las Vegas Sands has extremely high-quality assets due to its locations and integrated resort business model.
While Atlantic City is faltering, and the new Wynn casino in Boston is off to a slow start, Las Vegas Sands has assets in the best markets. Macao is by far the largest gaming market in the world, and by the end of this year, Sands will have 44% of all hotel rooms owned by gaming operators in Macao and 49% on the fast-growing Cotai Strip (which is a part of Macao). Singapore is the world's third largest gaming market, but is a duopoly. Las Vegas Sands, and Genting will own the only two casinos in Singapore through at least 2030. LVS has leading share in Singapore with almost 2/3 of the gaming revenue there. That casino, the Marina Bay Sands, produces around $1.7 billion in EBITDA each year on a roughly $5.5 billion construction cost. Las Vegas is the second largest gaming market in the world and the Sands' Las Vegas Venetian is credited with being one of the first modern integrated resorts.
Las Vegas Sands' Chairman and largest shareholder, Sheldon Adelson, built the Las Vegas Venetian as an integrated resort featuring space for meetings, incentives, conferences, and exhibitions/entertainment (MICE). If you go to Las Vegas now, there are an enormous number of non-gaming activities available. The Venetian started this trend, and non-gaming revenue is going to provide an opportunity for growth in Asia. Last year, the Las Vegas Venetian did $417 million in convention, retail, and other business. That represented 23% of revenue. LVS' six casinos in Asia did $129 million in convention, retail, and other business representing about 1% of revenue. Sands is just starting to build out this capacity in Asia and is being encouraged to do so by the Chinese government.
Opportunities for Growth:
In addition to the non-gaming growth opportunity, Las Vegas Sands has a number of projects either in process or planned. The new Parisian Macao launched without enough high-end suites, and LVS is completing that renovation. The expansion, renovation, and rebranding of the relatively low-end Sands Cotai Central to the Londoner is a bigger project. That will be accompanied by the construction of the Londoner Tower Suites. A final project in Macao is the construction of the Grand Suites at the Four Seasons.
Reason 2: China is Understating Cases:
The big project includes adding a fourth tower to the Marina Bay Sands and a new concert space. The Marina Bay Sands is the premiere gaming facility in the world, and any time a country looks at adding legalized gaming, they send people to visit this facility. It's an iconic building and one of the most profitable casinos in the world. LVS is spending a little over $3 billion to go from this: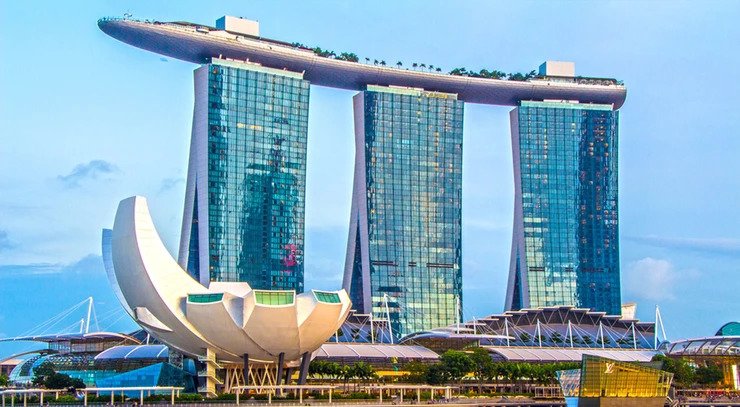 To this: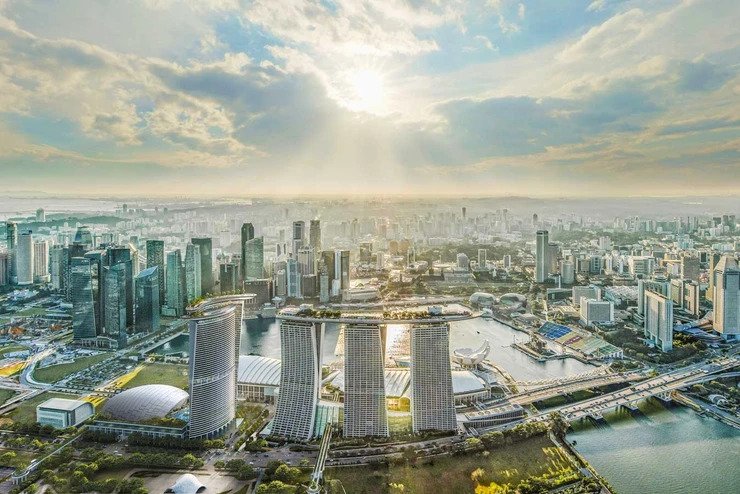 A key element of this expansion is that both Las Vegas Sands and Resorts World Sentosa, which owns the other casino in Singapore, paid a licensing fee to ensure that Singapore remains a duopoly for at least the next decade preventing any new competition from entering this lucrative market.
Let's Talk About the Virus:
The coronavirus has shut down businesses all over the world including Las Vegas, Macao, and Singapore. As of this writing, Las Vegas has suspended all casino operations starting on March 18th and extending through at least April 30th. It would not surprise us if the closure were extended for a bit longer, and even when the Vegas casinos do open, they will not be anywhere near full capacity. While final decisions haven't been made yet, there will definitely be restrictions on the number of gamblers who can be at a table, and we suspect that many tables will be closed to encourage "social distancing". In addition, there are a lot of people who aren't willing to get on an airplane right now even if the casinos and hotels are open.
Singapore shut down all casinos on April 7th and they will remain closed through at least June 1st. Singapore initially was lauded for getting the virus under control quickly and with a minimum of cases. Unfortunately, there has been a second wave of outbreaks in crowded apartments where many foreign nationals who work in Singapore live. The country is going through a second lock-down while trying to get things back under control. At this time, it is impossible to predict when the casinos will re-open.
Macao suspended all casino operations from February 5th to February 19th. As of now, the casinos are open, but with substantial limitations on the number of players allowed on the gaming floor or at a gaming table at one time. Macao gross gaming revenue was down 88% in February and 80% in March. So, the casinos are open, but not operating anywhere near full capacity. During the entire periods of the various shut-downs, Sands has continued to provide continuous employment for team members. The company hasn't fired anyone to reduce payroll. Given that most of the company's assets are in Asia, and LVS needs the cooperation of the Chinese government and the Singapore government to operate, this was a smart public relations move.
While we can't predict when the virus recedes and when things go back to normal, at some point, life will return to something more normal. People will get together again. People will once again travel. Eventually, people will engage in the public activities they enjoy including gambling. Fortunately, in this week's earnings announcement, LVS provided a key liquidity calculation. The company has $6.6 billion of cash and revolver availability. Monthly operating expenses and fixed charges are $305 million. Capital expenditures to complete the Macao rebranding and expansion projects comes to $50 million a month. That means that even in the current near-zero revenue environment, the company has 18 months of liquidity. The above calculation doesn't include the cost of the Marina Bay Sands expansion in Singapore which is covered under a separate debt facility. Because the company is already carrying a full payroll, any period of time where the casinos are open, but not operating at full capacity would extend that 18-month time-frame. The revenue will go up while expenses are fixed. While we can't give a date that things get back to "normal", we do think that hotels, restaurants, and casinos open within the next 18 months.
We also think the comments on this week's conference call provided helpful guidance. Adelson believes that China will start to relax current restrictions on Macao in May. He and LVS President, Rob Goldstein, also believe that there is pent-up demand from gamblers who have been stuck at home during the lengthy quarantine. They also think because people in Asia are more accustomed to wearing masks than people in the west that regulations requiring people on the gaming floors in Macao to wear masks and have their temperatures taken won't dissuade people from gambling.
Non-Virus Risks:
Political Risk: The US and China have been involved in a trade war for the last two years, and the two countries are each making claims that the other is responsible for the coronavirus. Relations between the two countries aren't great right now. There has been speculation that the Chinese government would exact revenge on the US-based companies running casinos in Macao. We think that's unlikely. First, Sheldon Adelson was President Trump's largest campaign contributor, and Steve Wynn was a big RNC donor as well as a quiet supporter of the president. Despite this, neither Beijing nor the local Macao government has treated either Las Vegas Sands, or Wynn Resorts (ticker: WYNN) differently from any of the other Macao operators.
Both LVS and WYNN (now without Steve Wynn) have been excellent corporate citizens of Macao. These companies have worked closely with the government for decades on regulation and acceptable practices. In recent years, the Chinese government has asked the Macao casinos to invest in non-gaming infrastructure. Las Vegas Sands has responded the most positively, and according to page 32 of the company's 1Q Earnings Presentation, 80% of all meeting, incentive, convention, and expo space in Macao is owned and operated by Sands China.
Finally, we will not claim any special insight into the workings of the Chinese Communist Party. However, we do believe that the executives of Las Vegas Sands who have worked with the Chinese government for decades do have an understanding of local politics. For us, the best proxy we can get for what's being communicated about the future is LVS' capital expenditure plans. The company spent about $2.5 billion building the Parisian, is spending about $1.3 billion to expand and rebrand the Sands Cotai Central to the Londoner, over $400 million to build the Grand Suites at the Four Seasons Macao, another $400 million to build the London Tower Suites, and hundreds of millions of dollars a year in maintenance cap-x. Sheldon Adelson and his wife own more than 50% of Sands' stock, and the company is spending billions of dollars to expand in Macao. These plans were reiterated as recently as this week. We think Adelson is investing heavily in the future of Macao because he believes that Las Vegas Sands will be an important part of that future.
Re-licensing Risk: Six companies have concessions to operate casinos in Macao. Two of them, with concessions expiring in 2020, had them extended to 2022 when all 6 concessions now expire. As of this writing, the Chinese government hasn't made its plans for re-licensing clear. Operating a casino is a difficult business requiring specialized knowledge. As described above, the Macao operators in general, and LVS in particular, have been extraordinary corporate citizens and have worked closely with the government to satisfy its wishes. Macao casinos are also huge taxpayers, and the Chinese government has every incentive to keep massive taxpayers' businesses intact.
Finally, foreign companies have invested tens of billions of dollars of capital into building Macao and helping it become the world's gaming capital. If the Chinese government chooses not to re-license the operators and crashes the value of Macao assets, it will be difficult to get other companies to invest in building fixed assets in China. While we can't know what will happen two years from now, coronavirus related supply-line disruption has many US and European companies looking at divesting from China, or at least building competing capacity closer to home. The current political environment argues for China trying to encourage foreign investment from companies that are continuing to build there. We believe that China will relicense all 6 concessionaires and charge these companies a fee for extending the license. It's possible that the government may also add additional licensees bringing some new competition around 2025.
Sheldon Adleson's Health: Sheldon Adelson is 86 years old and missed several conference calls last year due to receiving treatment for cancer. We've heard that he's still intellectually sharp and engaged in the daily operations of the company. While he's back on company calls and doing better, no one lives forever. It's hard to over-state Adelson's impact on the gaming industry. Over 20 years ago, he built the Las Vegas Venetian as the premiere integrated resort instead of just a hotel and casino. Las Vegas Sands was an early investor in Macao, and it was Adelson himself who envisioned reclaiming the land that became the Cotai Strip and using that land to build casinos. The Marina Bay Sands in Singapore is considered the gold standard in integrated resort construction.
The situation is similar to the one at Berkshire Hathaway. Both companies have iconic Chairmen who have created incredible shareholder value. And both Sheldon Adelson and Warren Buffet are at an age when people start to wonder about succession plans. Like Berkshire Hathaway, Las Vegas Sands is a well-run company with a deep operating management team. We think President and Chief Operating Officer, Rob Goldstein will become the CEO and Chairman at the necessary time, and while it will be difficult to replace Adelson's vision, company assets will continue to be well-run.
New Competition: Right now, Macao and Singapore are the big gaming draws in Asia. Other countries have seen the success of these operations and are starting to get involved. New casinos have opened in the Philippines, Korea, Vietnam, and Cambodia. Japan has been debating awarding gaming licenses for years and at some point, will allow 3 casinos to begin operations. Depending on how that plays out, Japan will either become a fantastic growth opportunity for LVS, or a new competitor. While the number of Asian casinos is growing, so is the population of Asians who can afford to travel and gamble. As the Chinese middle class grows, a larger network of high-speed trains, bridge and tunnel infrastructure, and new immigration processing capacity are bringing more people to Macao. It's not clear yet that competition is growing faster than the market.
Another offset to this is the possibility for M&A. Sands has spent years denying any interest in buying other properties, and all of its current casinos were built by the company. There were rumored talks of a merger between Las Vegas Sands and Wynn a couple of years ago, but nothing happened. The current decline in the price of gaming assets as a result of the coronavirus has created an opportunity, and for the first time in our memory, LVS is considering possible acquisition targets.
VIP vs Mass and Premium Mass: We see this "risk" factor as one that favors LVS. WYNN grew its business primarily focusing on the VIP gaming market (about 2/3 VIP and 1/3 mass in Macao) while Sands focused on the mass and premium mass markets (about 1/3 VIP and 2/3 mass in Macao). Last year, the VIP market was hindered by democratic protests in Hong Kong, a corruption crackdown on junkets (gambling tour organizers for VIPs), and the US/China trade war. The mass market is more stable, less subject to paying junkets for the business, and much higher margin. We like the mass and premium mass business better.
What's the Upside:
Last year, LVS earned $3.26, and looked like it was heading for something around $3.70 in 2020 prior to the coronavirus shut-downs. The stock tended to trade around 20 times earnings due to both the quality of the business and the high dividend ($3.16 annualized prior to recent suspension). Let's say it takes two years to get back to "normal" and in that time, Sands completes the capital expenditure projects discussed above and restores the dividend. 20 times $3.70 gets a stock price of $74 and a dividend yield of 4.3%. Investors at that point would start to benefit from growth due to the completion of construction in Macao and Singapore, and if earnings projections trend towards $4.00 – $4.50 range, we could see a stock price in the $80 – $90 range. That's roughly double the current $43 price.