The It's All About the Employment Report(s) Issue
This week, we get conflicting employment reports implying again that more people have taken second and third jobs part time jobs. China announces weak manufacturing data. The Federal Reserve is about to present Japan with a big problem. Finally, we take on the question of whether inflation is the fault of Beyonce, Taylor Swift, or something else. (The smart money is on something else.)
And another round of applause for DKI Intern, Tristan Navarino who continues to make strong progress. He suggested many of this week's "Things" and did nice work on the graphs. Feels like he's getting ready to start taking a crack at writing the 5 Things later this month. And for the fans of prior DKI Intern, Dylan Kogan, he's currently enjoying a multi-country trip to Asia before starting his first big job. DKI is proud of both of them.
Now, on to this week's Things…
1)  China's PMI Below 50 for 3rd Straight Month:
China's manufacturing purchasing managers' index (PMI) was below 50 for the third month in a row. Any reading below 50 means contraction. This indicates China is having difficulty restarting its economy. The country imposed three years of lockdowns on itself and only relaxed restrictions at the beginning of this year.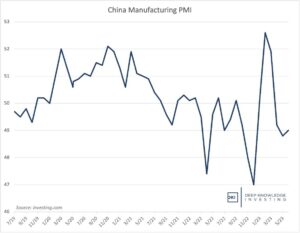 Anyone who thinks we're heading for a worldwide recession has seen this graph.
DKI Takeaway:  China is a huge exporter and people are interpreting a lack of manufacturing activity there as evidence of a coming worldwide recession. Oil has been trading down on fears of recession and back up on hopes for production cuts. DKI stock pick $LVS traded down on concerns about the spending capacity of Chinese gamblers. We'll know more in a few weeks, but believe that the company just completed an excellent 2Q.
2)  Employment Data is Both Spectacular and Disappointing:
On Thursday, we got a spectacular report on US private sector job growth. 497k new jobs were added which was far above expectations for 228k jobs. On Friday, the Labor Department showed June hiring was 209k jobs which was below expectations for 240k. The unemployment rate fell from 3.7% to 3.6%. The job market is seasonal and these reports come every month (and take different measures of employment). That's why we had the big spike and why the numbers don't match each other.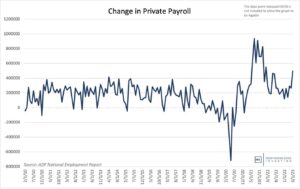 Spectacular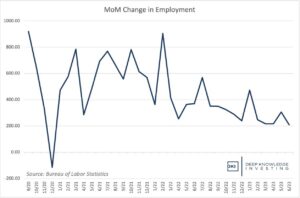 Disappointing
DKI Takeaway: There's always noise in these numbers, but it's likely that much of the growth in jobs was people taking on second or third part-time positions. However, the overall employment picture remains strong. We expect that with strong job growth, wage growth, and a very low unemployment rate, the Federal Reserve is going to raise rates at the next meeting. This opinion is now consensus as more firms come around to the DKI view that the hoped for Fed pivot is not here yet.
3)  It's Not Just a Lack of Breadth:
Recently, DKI commented on the lack of market breadth. When we wrote on the topic, 8 stocks accounted for all of the substantial gains made by the S&P 500 this year while the other 492 had contributed nothing. As of this writing, the bottom 492 have collectively turned slightly positive on the year.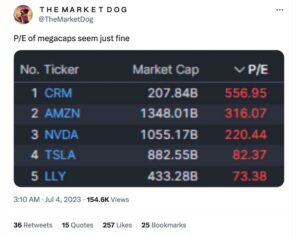 Either we need a lot of earnings growth, or this is not sustainable. HT to @TheMarketDog.
DKI Takeaway:  In addition to an outsized impact on the market, several of these stocks have incredibly high price to earnings ratios (P/E). Right now, it's a FinTwit sport to make fun of the bears who are concerned about the market. Most gains this year are in a small number of stocks with unsustainable valuations, and that's what's causing the bears' concern.
4)  I Hate it When Beyonce Inflates the Money Supply:
Central bankers in the US, the UK, the EU, and Japan have created massive amounts of currency leading to inflation. Politicians in each of these places are running massive deficits ensuring the problem gets worse. The press is running interference for them.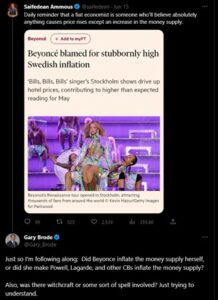 Do we label this disinformation or misinformation? Credit to @Saifedean.
DKI Takeaway:  Economics is complicated, but this one is simple. Massive overspending financed by expansion of the money supply caused inflation. Not sure if anyone associated with DKI is a Beyonce fan, but she didn't inflate a huge asset bubble with a decade and a half of near-zero rates and massive currency debasement. DKI refuses to respond to rumors that it's all Taylor Swift's fault.
5)  Japan and the Federal Reserve:
We started talking last October about Japan's potential sovereign debt default. The US Federal Reserve is about to make things much harder for the Bank of Japan. The Fed is indicating it intends to raise rates another 50bp (half a percent) this year and that as of now, it won't reduce rates this year. What happens if services inflation remains high, the employment situation remains tight, the economy doesn't collapse, and production cuts leads to an increase in the price of energy? No one wants to think about this, but the probability of 100bp (one percentage point) of increases is more likely than the probability of zero increases.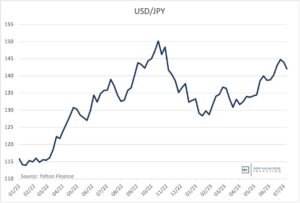 That was a 30% fall in the value of the yen near the end of '22. The BoJ doesn't want to see that again. (Higher on the graph means a weaker yen.)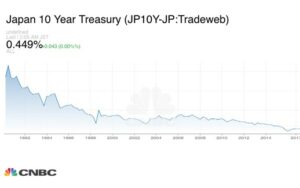 The BoJ kept rates incredibly low for years when other central banks were doing the same. Now that others are hiking, it's a problem for Japan. Current yield is .45%.
DKI Takeaway:  As the Fed raised rates last year, the Japanese Yen fell against the dollar. The Bank of Japan (BoJ) decided to keep the yield on its 10-year government bonds below 50bp and has been spending foreign currency reserves to defend that line. If the Fed keeps raising, the BoJ will need to either allow the 10-year yield to rise, or to watch the value of the yen fall. The first leads to an unsustainable death spiral where higher interest expense can only be paid by printing more currency which leads to higher inflation and higher rates which then leads to even higher interest expense. The second leads to a higher cost of living, especially for an island nation with limited natural resources. We can guarantee you that Jerome Powell will not hesitate to do this if he thinks it will help him contain inflation in the US.
Information contained in this report is believed by Deep Knowledge Investing ("DKI") to be accurate and/or derived from sources which it believes to be reliable; however, such information is presented without warranty of any kind, whether express or implied and DKI makes no representation as to the completeness, timeliness or accuracy of the information contained therein or with regard to the results to be obtained from its use.  The provision of the information contained in the Services shall not be deemed to obligate DKI to provide updated or similar information in the future except to the extent it may be required to do so. 
The information we provide is publicly available; our reports are neither an offer nor a solicitation to buy or sell securities. All expressions of opinion are precisely that and are subject to change. DKI, affiliates of DKI or its principal or others associated with DKI may have, take or sell positions in securities of companies about which we write. 
Our opinions are not advice that investment in a company's securities is suitable for any particular investor. Each investor should consult with and rely on his or its own investigation, due diligence and the recommendations of investment professionals whom the investor has engaged for that purpose. 
In no event shall DKI be liable for any costs, liabilities, losses, expenses (including, but not limited to, attorneys' fees), damages of any kind, including direct, indirect, punitive, incidental, special or consequential damages, or for any trading losses arising from or attributable to the use of this report.