The Surprisingly Strong Macro and Weak Company Issue
Last week's issue was titled "The Surprisingly Weak Macro Issue" due to multiple negative data points on the economy. Consistent with a trend of inconsistent data which DKI has been pointing out since last November, we got multiple positive data points this week combined with some concerning company news. In this week's issue, we'll cover:
Fed isn't projecting a recession – "higher for longer" is coming.
Retail sales up (again). The consumer won't stop spending.
Want to front-run Blackrock and Fidelity legally? We'll show you how.
Ratings agencies about to downgrade the big banks now. What's the govt. guarantee worth?
Mercedes disconnects Russian customers. Are you next?
Ready for the week? Let's dive in:
1)  Fed Minutes Providing Clarity:
The Federal Reserve released the minutes from its last meeting which included this line: "With inflation still well above the Committee's longer-run goal and the labor market remaining tight, most participants continued to see significant upside risks to inflation, which could require further tightening of monetary policy". They're telling you the next move is much more likely to be a rate hike than a "pivot" to lower rates.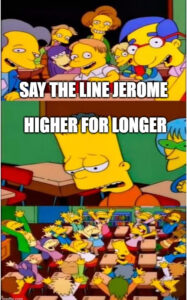 Fed Chairman, Powell, telling us what's coming next.
DKI Takeaway:  Many people are complaining that the Fed may be raising rates into a recession. We think it's important to understand the individual motivations here. Chairman Powell is terrified of being the next Arthur Burns who stopped hiking rates prematurely in the '70s leading to additional years of horrible inflation. He wants to be the next Paul Volker, the Fed Chairman who crushed inflation by taking the fed funds rate almost to 20%. Instead of being upset, we think it's best to hedge your portfolio for higher interest rates. Reach out and DKI can help.
2)  Retail Sales Continue to Surprise on the Upside:
July retail sales were up .7% vs the prior month. While some of that is due to higher prices, every month we get additional evidence showing the American consumer continues to spend.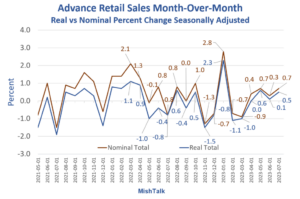 Graph from MishTalk.
DKI Takeaway:  I keep seeing lots of reports that the consumer is tapped out, drowning in debt, and that we're about to have a huge consumer debt write-off problem. These things go in cycles and will eventually be true. For now, the consumer is spending wildly with high employment, higher wages, and delinquency rates that are still better than the pre-pandemic baseline. This is a great environment for DKI stock pick Enova International ($ENVA) which continues to post high loan growth with low charge-offs.
3)  Here's a Legal Way to Front-Run the Big Asset Managers:
Recently, several of the massive asset management firms filed with the SEC to get approval for Bitcoin exchange traded funds. Even small allocations from these firms which control tens of trillions of dollars of assets, would overwhelm the current value of all Bitcoin available for sale. In many situations, trading based on the order flow of other market participants could be illegal. It IS different this time. Because these firms have made public regulatory filings, you CAN buy ahead of them.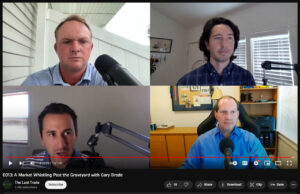 I had the pleasure of discussing this and problems with the current fiat system with the team at The Last Trade. Check out the video.
DKI Takeaway:  The current issuance schedule for Bitcoin is about 900 coins a day. This will only go down over time. Those 900 coins are worth under $30 million at today's valuation. So, when institutions begin to buy billions of dollars of Bitcoin for their ETFs, and the supply can't increase by much, the only thing that can adjust to accommodate current demand is the price of the underlying asset.
4)  Too Big to Fail and More Risk:
In last week's 5 Things we pointed out the recent downgrades of 10 small and medium sized banks by ratings agency, Fitch. This week, Fitch warned that further reductions in their view of the banking sector would lead them to reevaluate their ratings on all banks they cover. This would include the too-big-to-fail banks like JP Morgan ($JPM) and Citigroup ($C) among others.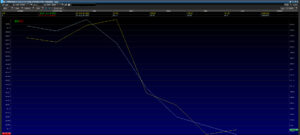 TBTF banks, JP Morgan and Citi did not respond well to a potential downgrade this week.
DKI Takeaway:  While the market didn't like the threat of a downgrade, at DKI, we don't think it's all bad. Instead of treating banks like regular businesses with customer safety regulations, the government has extended an unofficial backing to the largest banks. That encourages unwise taxpayer-backed risk-taking from these firms and gives them an unearned funding advantage over their smaller competitors. We credit Fitch for looking through the government bailouts and seeing the real underlying risk.
5) A Word of Caution on "Connected" Cars:
This week, RT announced that Mercedes had disconnected Russian customers from the software needed to run its vehicles. While this didn't render existing cars inoperable, it does mean that future repairs will be more difficult. Aircraft manufacturers have denied Russian airlines the parts needed to repair and maintain planes which has been one of the most effective of the anti-Russian sanctions. However, this move by Mercedes leaves us with a slightly different concern.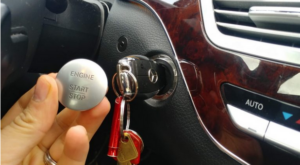 What happens if this button can be disabled remotely?
DKI Takeaway:  Please remember that EVs, self-driving cars, and other connected cars can all be "bricked" and rendered inoperable by the manufacturer. If you're depending on one for transportation, be aware that if the government declares another emergency lockdown, you might be prevented from leaving your home (or returning to your home). Last year, Canada disabled banking access for citizens who peacefully protested a government policy they thought negatively impacted them. China already denies public transportation access to subjects who violate that country's strict speech and conduct codes. If your current expressed views conflict with those of a future White House administration, your access to personal transportation can be prevented. If you can afford it, it's best to keep an older-model vehicle around that can't be remotely disabled.
Information contained in this report is believed by Deep Knowledge Investing ("DKI") to be accurate and/or derived from sources which it believes to be reliable; however, such information is presented without warranty of any kind, whether express or implied and DKI makes no representation as to the completeness, timeliness or accuracy of the information contained therein or with regard to the results to be obtained from its use.  The provision of the information contained in the Services shall not be deemed to obligate DKI to provide updated or similar information in the future except to the extent it may be required to do so. 
The information we provide is publicly available; our reports are neither an offer nor a solicitation to buy or sell securities. All expressions of opinion are precisely that and are subject to change. DKI, affiliates of DKI or its principal or others associated with DKI may have, take or sell positions in securities of companies about which we write. 
Our opinions are not advice that investment in a company's securities is suitable for any particular investor. Each investor should consult with and rely on his or its own investigation, due diligence and the recommendations of investment professionals whom the investor has engaged for that purpose. 
In no event shall DKI be liable for any costs, liabilities, losses, expenses (including, but not limited to, attorneys' fees), damages of any kind, including direct, indirect, punitive, incidental, special or consequential damages, or for any trading losses arising from or attributable to the use of this report.