Fed Raises Rates and Attempts to Ease Banking Sector Concerns, More Tech Layoffs, Jobs Numbers, and This Week in Hypocritical Politicians
It's beginning to feel like the people we've been told are in control are no longer in control: Fed Chair Powell and Treasury Secretary Yellen do not have control over the financial fallout, tech companies do not have control over their ability to generate cash flow, and Senator Warren lacks control of her outsized ego.
1)  Federal Reserve Raises Rates by 25bp (.25%) – Shocks Everyone by Doing the Expected:
On Wednesday, the Federal Reserve raised interest rates by .25%, bringing its benchmark federal-funds rate to a range of 4.75% – 5.00%. The market had been looking for a 50bp increase due to a stronger than expected economy. Then, three banks failed and many more people begged for a rate reduction. The actual 25bp increase was what both the market and DKI expected. On Wednesday, the Fed made stated "the U.S. banking system is sound and resilient," in its policy statement. The more Powell and Janet Yellen keep saying it, the less reassuring it sounds.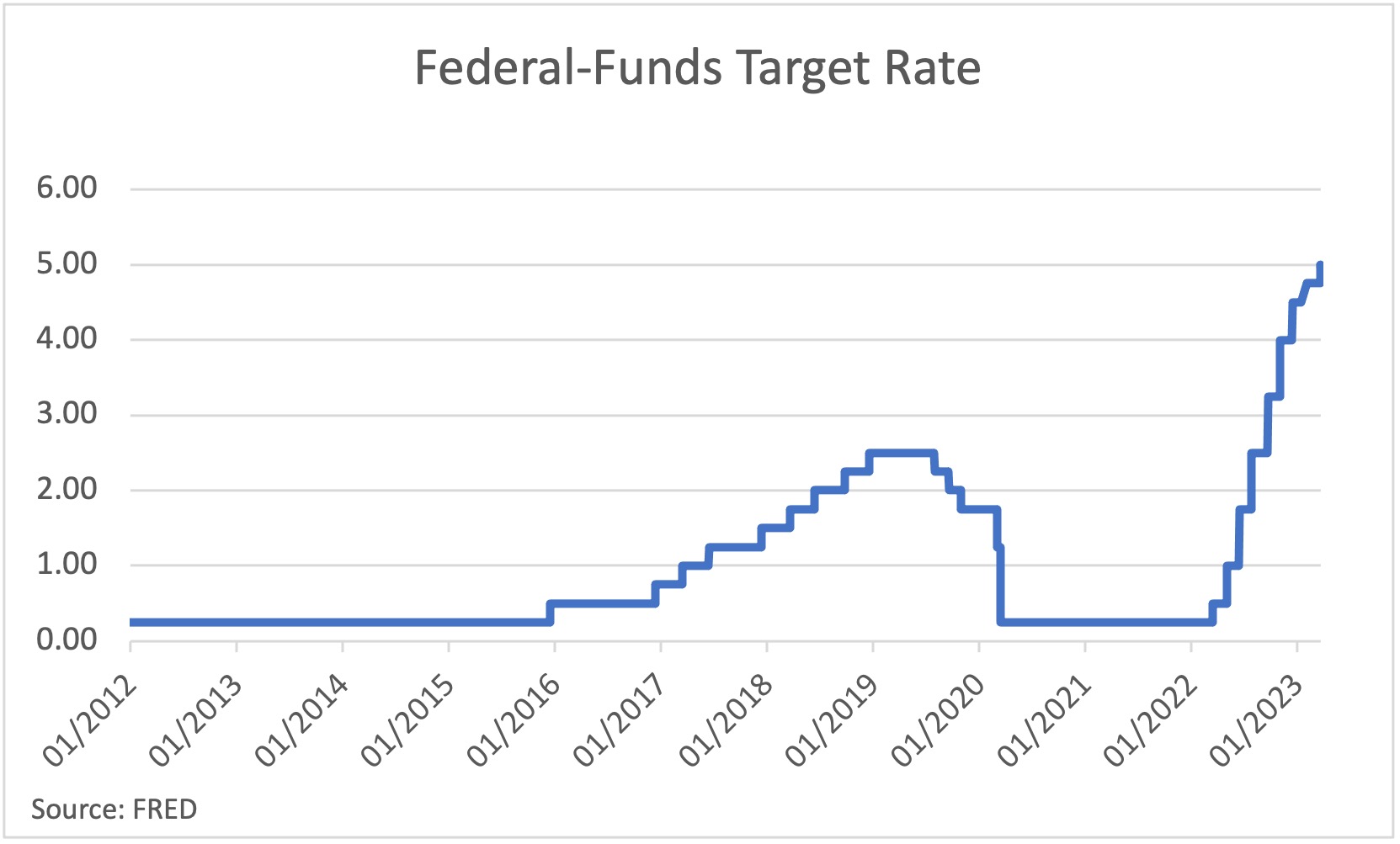 DKI Takeaway: Powell continued to demonstrate that the Fed is focused on controlling inflation even if it means tipping the economy into a recession. He had previously indicated his expectation that rates will remain higher and for longer, but is now signaling greater caution about further rate hikes.
2)  The Banking Sector Turmoil Continues:
Last weekend, UBS announced its $3.2bn plan to acquire Credit Suisse, which agreed to the below-market takeout after years-long battles with scandals and missteps. The domestic solution was preferred by Swiss regulators, who provided UBS with funding for the takeover. This is the largest bank merger since the Global Financial Crisis. For more about Credit Suisse's fall and terms of the deal, click here.
Back home, despite Fed Chair Powell's assertion that the banking system is "sound and resilient," confidence in the financial sector remains on unstable footing. Following the 25bps increase in interest rates and Treasury Secretary Janet Yellen's statement that she is not yet considering a blanket promise to cover all bank deposits, bank stocks dropped. First Republic Bank lost 15% of its value despite receiveing a $30 billion deposit/bailout from 11 banks, a move intended to restore confidence. Legislation to raise the cap on FDIC insured deposits is being considered.
This is Powell's "everyone stay calm" expression. Do you think it's working?
DKI Takeaway: Administrators globally are bending over backwards—including breaking their own rules—to promote the narrative that the banking sector is "sound and resilient." For those of you who want to insure more than $250k, here are two ways to do that: Just click here and here.
3) Even More Tech Layoffs:
Tightening economic conditions are continuing to weigh heavily on tech firms. On Monday last week, Amazon announced plans to cut 9,000 jobs. This is in addition to the 18,000 jobs the company announced it would lay off at the beginning of this year. The week prior, Meta (the company all of us know as Facebook) announced plans to cut 10,000 jobs. Both companies referenced the changing macro environment in the decisions. According to Layoffs.fyi, which tracks layoffs in the tech industry, over 314,000 workers have been laid off since the beginning of 2022.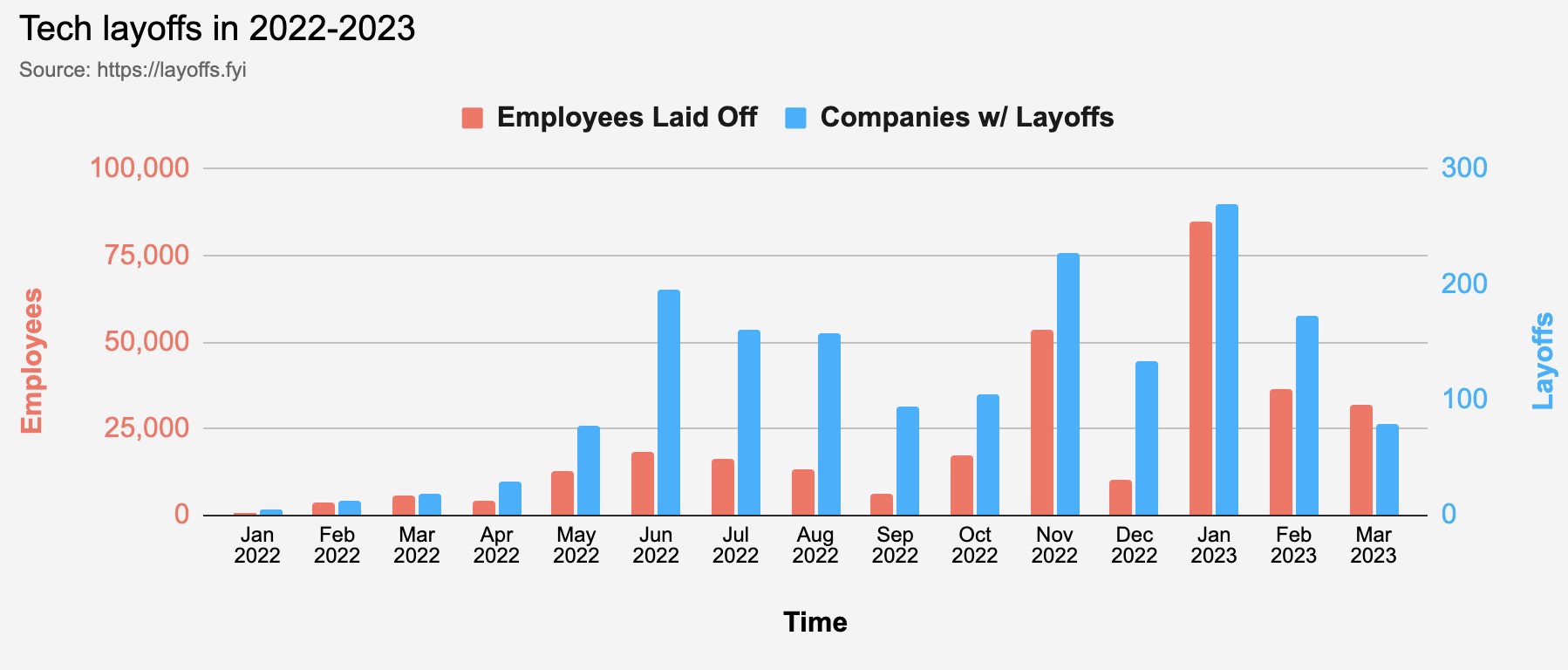 DKI Takeaway: Times are tough for tech companies whose growth had been fueled by near-zero interest rates for the last decade. Higher rates forced tech companies to recognize that they had grown too fast or would need to produce positive free cash flow, leading to cost cutting measures including layoffs.
4)  Initial Jobless Claims Come in Low Again:
Initial jobless claims declined slightly to 191,000. This came as a surprise to economists who had been expecting 201,000. The U.S. labor market remains tight despite efforts from the Fed to cool the economy and bring inflation down.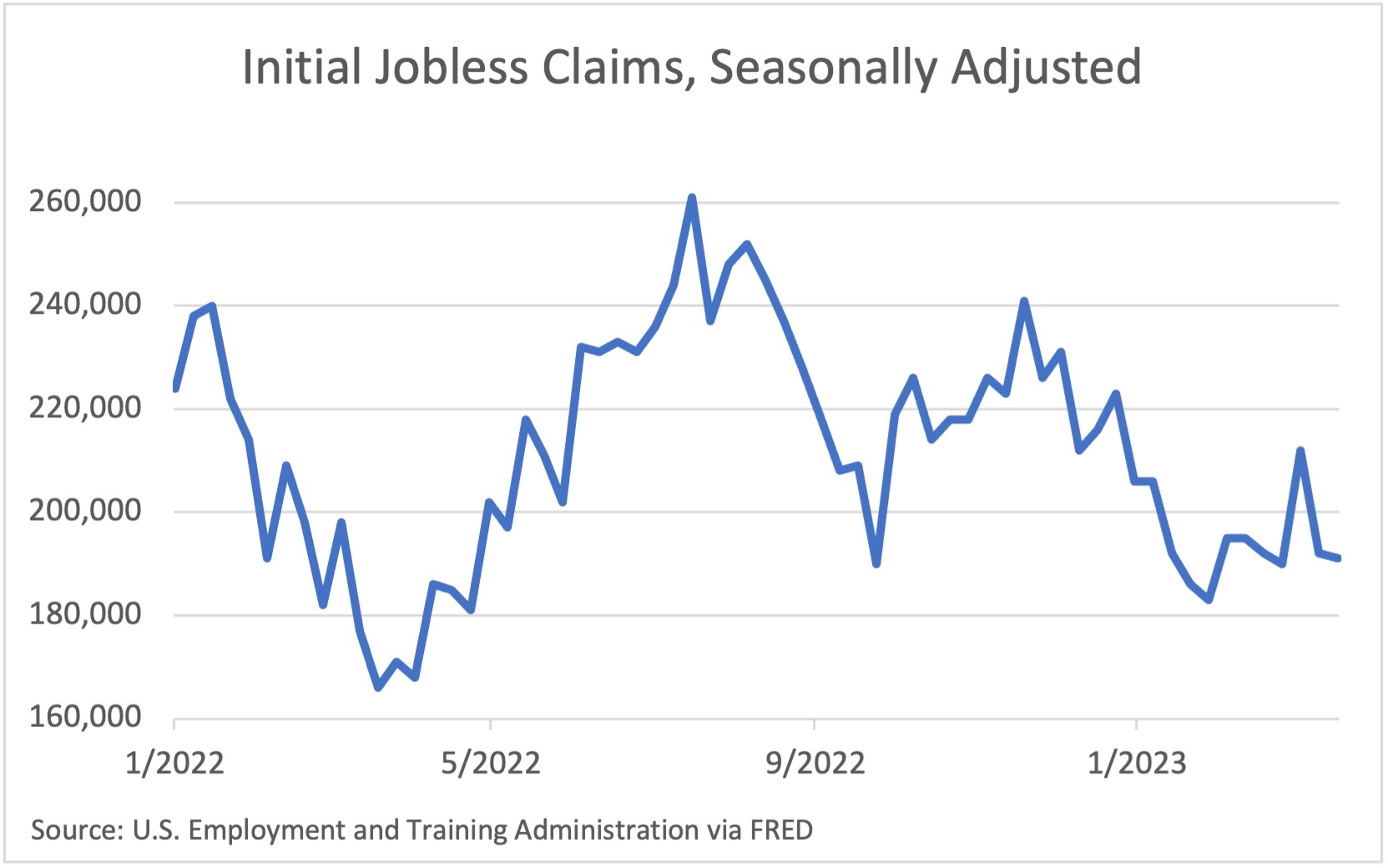 DKI Takeaway: It is unlikely that this is the type of news Fed Chair Powell was hoping for as it implies businesses still have to compete for workers. He hopes to see higher unemployment and lower wage pressures. Until that happens, the Fed "Pivot" may come later than some expect.
5)  Senator Warren and Friends Push for Greater Regulation of Mid-Sized Banks:
Elizabeth Warren has spoken out against Jerome Powell and the Fed. The Massachusetts Senator blames the Fed for the banking fallout, claiming regulation of mid-sized banks is not strong enough. Moreover, she has targeted Fed Chair Powell, calling him a "dangerous man to have in his position," for his statements that quantitative tightening will likely result in higher unemployment. However, Senator Warren is neglecting to acknowledge that extreme congressional spending packages, which she largely supports, are responsible for the high inflation that necessitates interest rate increases. (For the partisans in the crowd, DKI acknowledges that Republicans carry plenty of blame for overspending. Warren has been outspoken both in her criticism of higher rates and her approval of higher spending without acknowledging the link which is the reason we highlight her today.)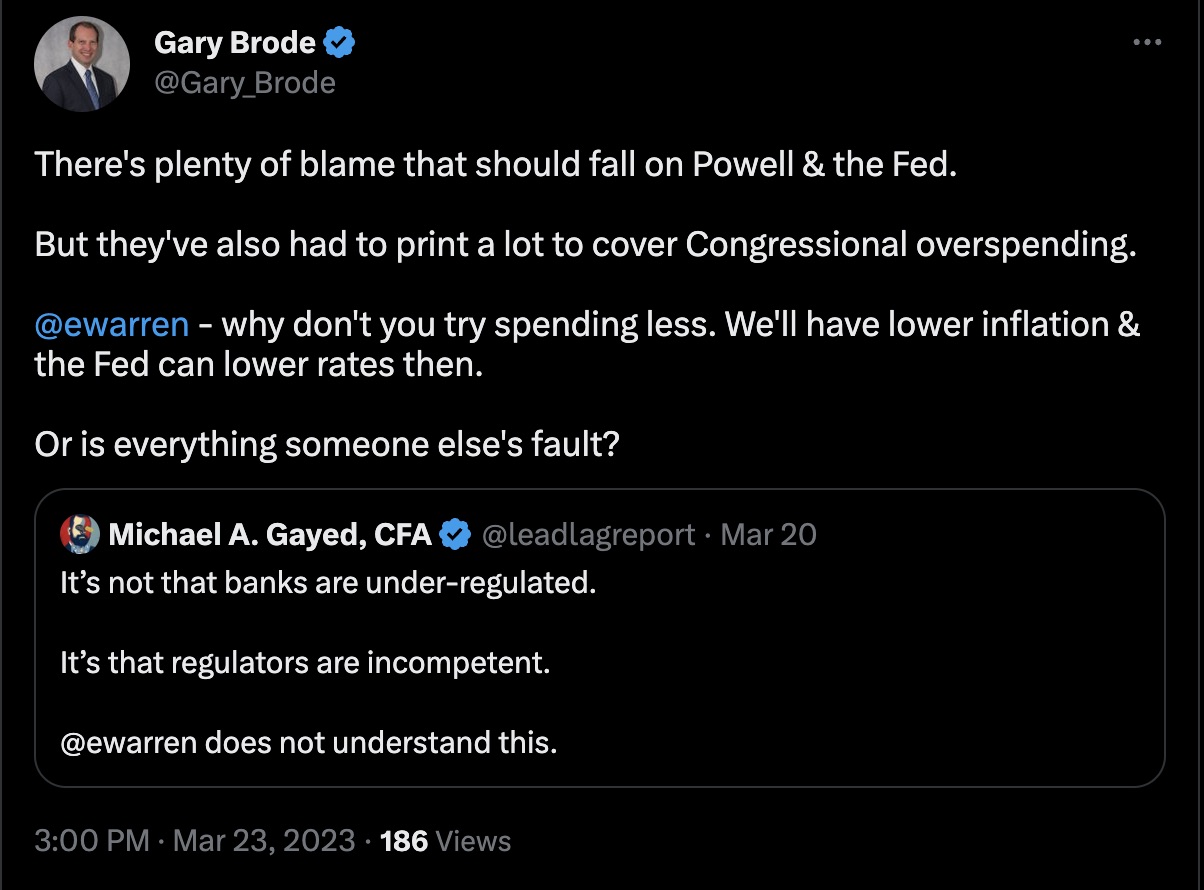 DKI Takeaway: High inflation—which led to the rate changes that made several banks insolvent—is the result of the Fed's imprudent open market policies in addition to gross overspending by Congress and the current administration which Warren has largely supported. If Senator Warren wants to cast blame at Powell and the Fed, she should be prepared for in-kind criticism.
Information contained in this report is believed by Deep Knowledge Investing ("DKI") to be accurate and/or derived from sources which it believes to be reliable; however, such information is presented without warranty of any kind, whether express or implied and DKI makes no representation as to the completeness, timeliness or accuracy of the information contained therein or with regard to the results to be obtained from its use.  The provision of the information contained in the Services shall not be deemed to obligate DKI to provide updated or similar information in the future except to the extent it may be required to do so. 
The information we provide is publicly available; our reports are neither an offer nor a solicitation to buy or sell securities. All expressions of opinion are precisely that and are subject to change. DKI, affiliates of DKI or its principal or others associated with DKI may have, take or sell positions in securities of companies about which we write. 
Our opinions are not advice that investment in a company's securities is suitable for any particular investor. Each investor should consult with and rely on his or its own investigation, due diligence and the recommendations of investment professionals whom the investor has engaged for that purpose. 
In no event shall DKI be liable for any costs, liabilities, losses, expenses (including, but not limited to, attorneys' fees), damages of any kind, including direct, indirect, punitive, incidental, special or consequential damages, or for any trading losses arising from or attributable to the use of this report.