The Everyone Fails Again Version
Bank failures, bank depositor bailouts, forced bank bailouts, CFOs who can't evaluate risk, and bank risk managers who aren't even trying to do their jobs. It's the 5 Things to Know – Failure Edition!
DKI continues to applaud intern, Dylan Kogan, who again makes a strong contribution to this week's 5 Things and did not cause a bank to fail or demand a bailout. We have him ranked well above Janet Yellen in this spring's finance draft.
1) Government Bails Out Bank Depositors:
After the failures of Silicon Valley Bancorp and Signature Bank, the government decided to violate FDIC regulations and insure all deposits at these two banks. Most of that money will go to corporations with CFOs who were sleeping on the job. DKI wasn't sleeping on $SIVB. Details on our miss with the bank are here.

That blip up at the end is about $300B of bank deposit-related quantitative easing.
DKI Takeaway: Corporations took above-market deposit rates, lines of credit they couldn't get elsewhere, and special mortgages for senior executives. Does anyone believe that these financial professionals thought they were getting the extras risk free? Just 15 years after 2008, we are STILL socializing losses from the finance world.
2) $SIVB Fails – as Does EVERYONE Who Failed in 2008:
On the way to bankruptcy, here's a list of everyone who failed at and around Silicon Valley Bank:
The Sell Side – only 1 of 17 analysts had a sell rating (congratulations to Morgan Stanley).
The Regulators – we were assured in 2008 that bank bailouts were a one-time wrong. Why should any of us trust the regulators to sound the alarm before disaster strikes?
The Risk Team at $SIVB – The bank's Head of Financial Risk Management was focused on personal issues and doesn't seem to understand bond duration risk.
Moody's – They had the bank rated investment grade as late as the day it failed. The ratings agencies were wrong in 2008 and wrong again now.
The Depositors – CFOs of corporations couldn't figure out that all the extras they received came with risk that should fall on their companies.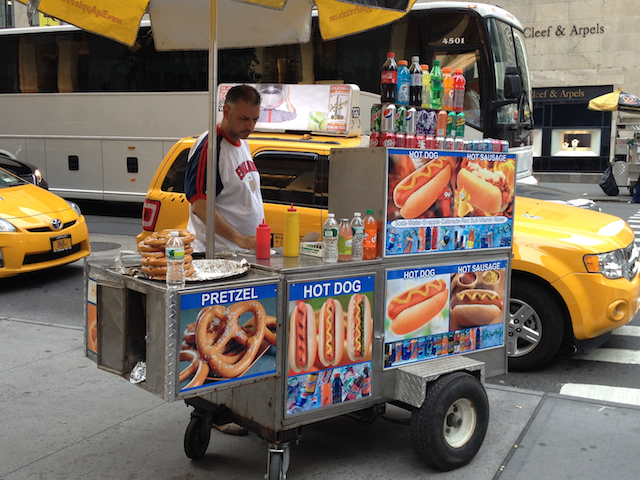 Let's give Janet Yellen and the Fed a hot dog stand. When they can manage that, we'll consider something more significant.
DKI Takeaway: Everyone who failed in 2008 just failed again in the exact same way. These people and institutions should never have your trust. Full analysis of the mess is here.
3) Forced Bailout of First Republic:
Like $SIVB, First Republic seems to be focused on a lot of political and social issues. Their customers seem to be more focused on getting higher rates on their deposits. In a world where fears of a bank run can create a bank-destroying run, the regulators want to reassure us that the banking system is sound while they take extraordinary actions to keep banks from failing. 11 banks just made $30 billion of uninsured deposits with First Republic.
That deer in the headlights look doesn't help – no matter how many times she tells us the banking system is sound.
 DKI Takeaway: Why would the banks do this? We think it's because of what we saw in 2008 where a firm that declined to participate in the '90s bailout of Long Term Capital Management was left to fail. Want to stay in the club – time to pay your dues.
4) CPI Comes Down Slightly to 3x the Target Level:
While the CPI came down slightly to 6.0%, the acceleration of monthly inflation has put a stop to the "approaching zero inflation" narrative we saw just a few months ago. Core inflation remains high at 5.5%. Services inflation of 7.3% remains very high and is the part of the equation the Fed is desperate to get under control.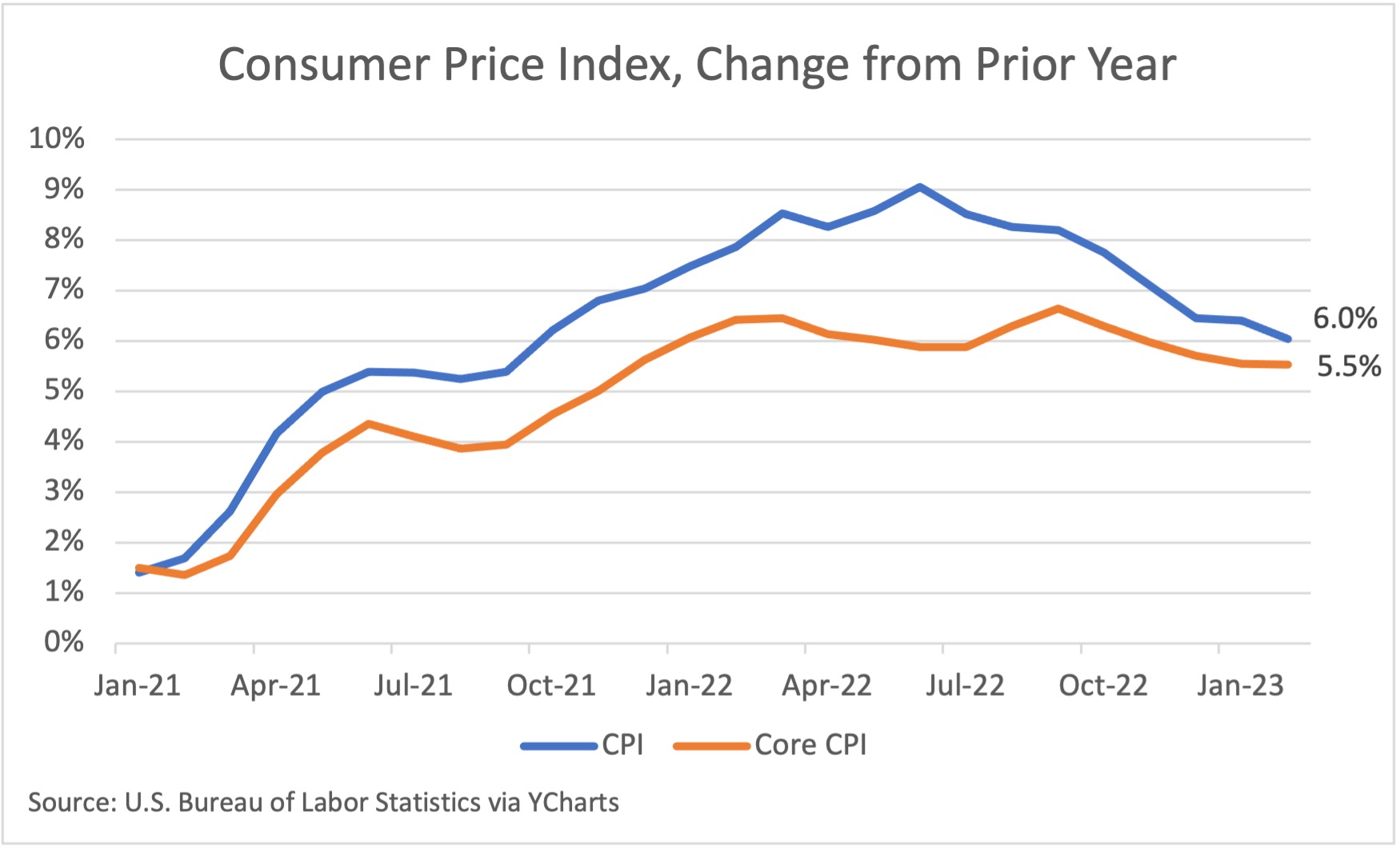 It's still way too high.
DKI Takeaway: Fed rate hikes are helping get inflation down from the levels we saw last year, but there's still a long way to go. While the bank failures might give Powell pause, this CPI report will encourage the Fed to keep raising. More detailed analysis of the CPI report is available here.
5) February Retail Sales are Down .4%, Seasonally Adjusted:
The U.S. Commerce Department announced last week that seasonally adjusted retail spending was down .4% in February. This continued a trend of inconsistent consumer data we've been highlighting since November. The current reduction in spending implies that savings built up due to a lack of activity during the pandemic combined with trillions of dollars of "stimmies" have been exhausted.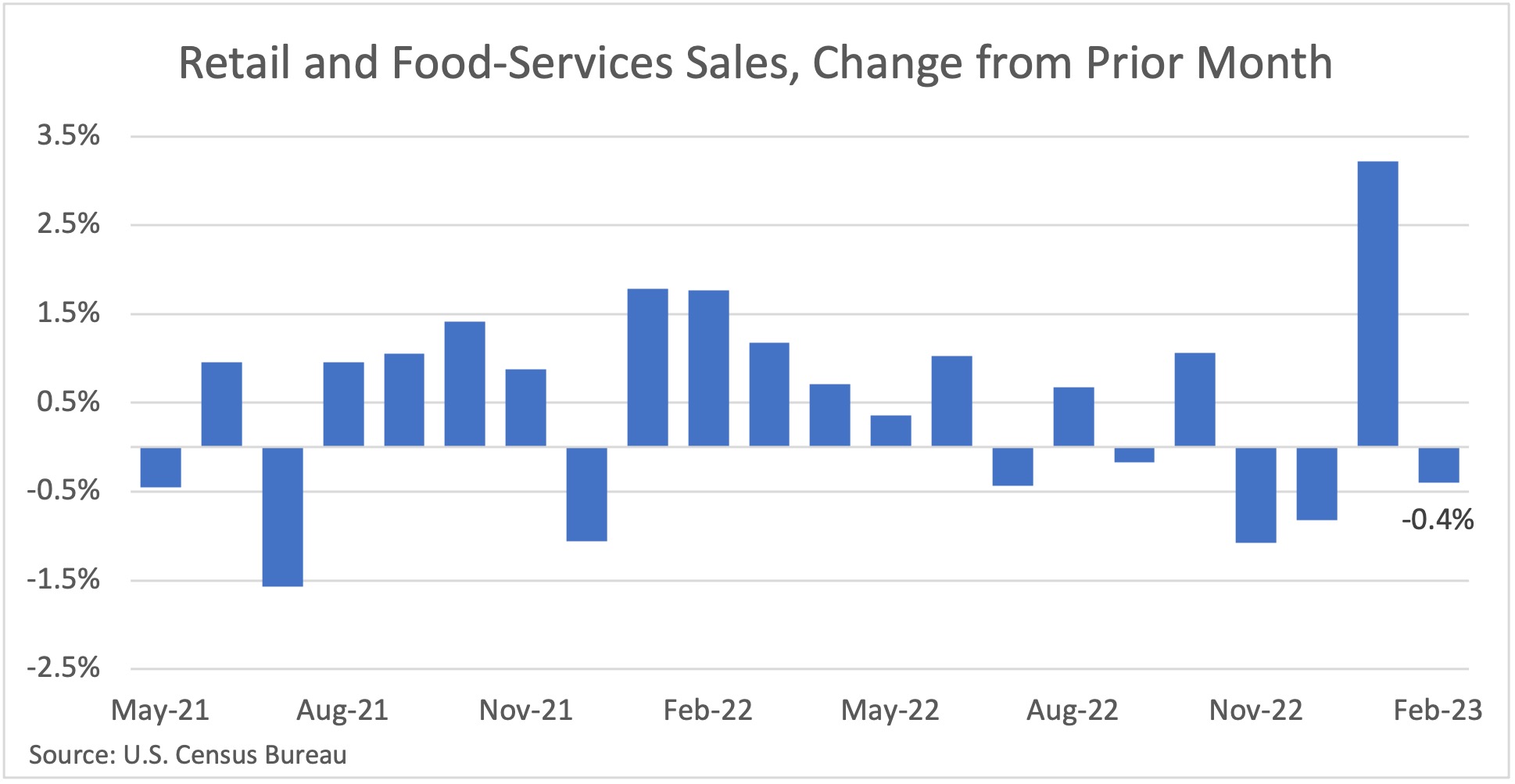 DKI Takeaway: Overall, the consumer is in good shape with low unemployment and higher wages. This is an excellent environment for DKI stock pick $ENVA even with this month's lower sales.
Information contained in this report is believed by Deep Knowledge Investing ("DKI") to be accurate and/or derived from sources which it believes to be reliable; however, such information is presented without warranty of any kind, whether express or implied and DKI makes no representation as to the completeness, timeliness or accuracy of the information contained therein or with regard to the results to be obtained from its use.  The provision of the information contained in the Services shall not be deemed to obligate DKI to provide updated or similar information in the future except to the extent it may be required to do so. 
The information we provide is publicly available; our reports are neither an offer nor a solicitation to buy or sell securities. All expressions of opinion are precisely that and are subject to change. DKI, affiliates of DKI or its principal or others associated with DKI may have, take or sell positions in securities of companies about which we write. 
Our opinions are not advice that investment in a company's securities is suitable for any particular investor. Each investor should consult with and rely on his or its own investigation, due diligence and the recommendations of investment professionals whom the investor has engaged for that purpose. 
In no event shall DKI be liable for any costs, liabilities, losses, expenses (including, but not limited to, attorneys' fees), damages of any kind, including direct, indirect, punitive, incidental, special or consequential damages, or for any trading losses arising from or attributable to the use of this report.